Reigning Lucas Oil Top Fuel Hydro Champ Sanders Declared Winner of Windy Haas Memorial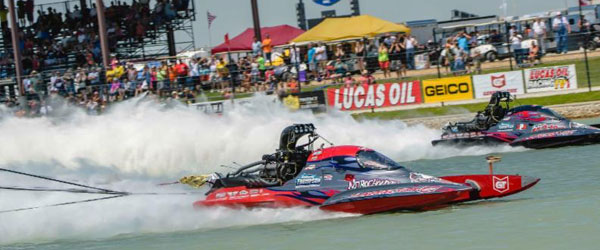 WHEATLAND, Missouri (June 11, 2017) – Bryan Sanders and Nitrochondriac remained perfect in pursuit of a repeat Lucas Oil Drag Boat Racing Series Top Fuel Hydro championship, but this celebration was a muted one.
"It's disappointing because we really wanted to put on a show for the fans," Sanders said Sunday at Lucas Oil Speedway after sustained strong winds forced the final run against Kevin Burgess in Locked and Loaded to be cancelled. Sanders, on the basis of a 260 miles-per-hour run in the semifinals earlier in the day, was declared the winner at the 6th annual John Haas Memorial Drag Boat Classic. It gave the Houston, Texas, driver a third win in three attempts in 2017. The final three pro divisions fell victim to the conditions that caused Lake Lucas to turn choppy with no forecast of a wind break until near nightfall. Travis Tuttle in Short Fuse was declared winner in Top Alcohol Hydro and Tony Scarlata in Shazam took the Top Alcohol Flat without a finals run. The divisions that were able to make finals runs saw Shawn Reed in Top Secret capture the Pro Mods, Eric Dement in Real Bad Boy take the Pro Outlaw, Tim Connelly in Crazy Train won Pro Eliminator, Steve Prewitt in Hold My Beer & Watch take Quick Eliminator and Kelvin Perkins driving Blown Money take Top Eliminator. Other winners included Bill Miles in Krazy Kracker (Modified Eliminator), Al Kirschner in Plum Krazy (Stock Eliminator), Tracy Lowe in Intimidator (River Racer) and Nate Stephenson driving Dominator (Personal Watercraft).  Sanders had a strong run earlier Sunday in the semifinals, going 260.4665 with a 3.56-second elapsed time at 1,000 feet. Burgess won his semifinal in Locked and Loaded at 184.8973 mph and a 4.237 ET after opponent Scott Compton in Liquid Voodoo was disqualified for not staying within its lane. "We had a tuneup in the boat and we wanted to see what it would do," Sanders said of his anticipation for a finals run. "I wanted to run, but I understand. You have to go with safety. "I think this boat was very capable of running a low 3.4 (ET) and above 260 (mph). Believe it or not, a couple of runs we made this weekend, it should have been way over the 260 range but that head wind was pushing the boat back and pushing the ET down. It the wind wasn't blowing, we would have tagged 270 (Saturday) we think." Sanders said it was a weekend to celebrate, especially considering the big picture of the series title chase. "It's a win and we'll take it. I really wanted to race for it, but we'll take them as we get them," Sanders said. "That's three in a row and hopefully we can carry the momentum into the next race and keep it going." Tuttle had a 196.465 mph semifinal run in Short Fuse, strong enough for the Top Alcohol win. Scarlata went 164.233 in Shazam in the Top Alcohol Flat semifinal. SUNDAY'S RESULTS, JOHN HAAS MEMORIAL TOP FUEL HYDRO Winner- NITROCHONDRIAC BRYAN SANDERS, HOUSTON, TX TOMMY THOMPSON, LOCUS GROVE, OK Runner-up – LOCKED AND LOADED KEVIN BURGESS, SPOKANE VALLEY, WA TOM SORCI, NEEDLES, CA # 1 Qualifier: 246L NITROCHONDRIAC BRYAN SANDERS, HOUSTON, TX TOMMY THOMPSON, LOCUS GROVE, OK 3.4665, 260.8402 (-0.1617) TOP ALCOHOL HYDRO Winner – SHORT FUSE TRAVIS TUTLE, RIO VISTA, TX SAME Runner-up – BAD MOON RISING DALE RIGGS, TROUP, TX BUZZY BOASE, MAGNOLIA, TX # 1 Qualifier: 414L RUNNING WITH SCISSOR ANDY REYNOLDS, LAKE WYLIE, SC SAME 4.4533, 199.2356 (0.0787) TOP ALCOHOL FLAT Winner – SHAZAM TONY SCARLATA, PERRIS, CA TOMMY THOMPSON, LOCUS GROVE, OK Runner-up PARTY TO THE MAX BILL MILLER, TAYLOR, TX MAX & LINDA DAVIS, MONTGOMERY, TX # 1 Qualifier: 339L SHAZAM TONY SCARLATA, PERRIS, CA TOMMY THOMPSON, LOCUS GROVE, OK 5.0896, 164.1918 (0.3392) PRO MOD Winner – TOP SECRET SHAWN REED, LAKE TAPPS,, WA SAME Runner-up – LIVIN THE DREAM MARTY LOGAN, MIDLOTHIAN, TX SAME 6.9980, 172.7861 (0.0847) 7.0746, 167.8137 (-0.0012) # 1 Qualifier: 326S CAN'T TOUCH THIS SHELBY EBERT, WAMEGO, KS TODD EBERT, WAMEGO, KS 7.0347, 179.1622 (-0.0140) PRO OUTLAW Winner – REAL BAD BOY ERIC DEMENT, LULING, TX SAME Runner-up – A FEW DOLLARS MORE TOMMY THOMPSON, LOCUST GROVE, OK SAME 5.9376, 111.9643 (0.2470) 5.4611, 158.4960 (1.1529) # 1 Qualifier: 103L WILDFIRE ROBERT LEAS, CLIMAX SPRINGS, MO JEFF WOODRUFF, SUNRISE BEACH, MO 5.4163, 165.6474 (-0.0270) PRO ELIMINATOR Winner – CRAZY TRAIN TIM CONNELLY, ST. ANN, MO SAME Runner-up – JUST ANOTHER QUICKIE DAVID SCHMIDT, SMITHTON, IL DAVID SCHMIDT, SMITHTON, IL 8.1505, 142.6499 (0.0702) 8.0570, 139.8681 (-0.0585) # 1 Qualifier: 357L ON THE EDGE DARYL BUSBY, ST. LOUIS, MO SAME 8.0020, 0.0000 (0.4173) QUICK ELIMINATOR Winner – HOLD MY BEER & WATCH STEVE PREWIT, MIDLAND, TX SAME Runner-up – PURE INSANITY ROCK GUTHRIE, CRUMP, TN SAME 6.0310, 136.4354 (0.0846) 5.9912, 137.4930 (0.2502) # 1 Qualifier: 540K PURE INSANITY ROCK GUTHRIE, CRUMP, TN SAME 6.0045, 135.0065 (0.0754) TOP ELIMINATOR Winner – BLOWN MONEY KELVIN PERKINS, RUSSELLVILLE, KY SAME Runner-up – WINKIN BLINKIN NOD GARRETT FARNSWORTH, BONNOTS MILL, MO SAME 9.2775, 114.0603 (0.0735) 8.9534, 126.8768 (0.3902) # 1 Qualifier: 828S TEXAS HIGHRISK KEVIN CONKLIN, MIDLAND, TX JIM BURNS, CORPUS CHRISTI, TX 9.0015, 112.9810 (0.2063) MODIFIED ELIMINATOR Winner – KRAZY KRACKER BILL MILES, IMPERIAL, MO SAME Runner-up – AIN'T SCARED GREG CARR, SCHLATER, MS SAME 10.0801, 104.5486 (0.1488) 10.1034, 94.8671 (0.2061) # 1 Qualifier: 053K GHOST RIDER TERRY OLSON, RICHMOND, KY SAME 10.0037, 102.5881 (0.1551) STOCK ELIMINATOR Winner – PLUM KRAZY AL KIRSCHNER, LAKE JACKSON, TX SAME Runner-up – NUBY RIPPLES HARDY COLE, JOPLIN, MO SAME 11.0752, 88.9898 (0.1449) 10.9889, 100.5315 (-0.0465) # 1 Qualifier: 327K NUBY RIPPLES HARDY COLE, JOPLIN, MO SAME 11.0065, 102.3874 (0.3141) RIVER RACER Winner – INTIMDATOR TRACY LOWE, ARKADELPHIA, AR SAME Runner-up AQUATIC THERAPY DENISE HODGES, EMPORIA, KS SAME 12.3373, 92.3102 (-0.0422) 12.1267, 85.2981 (-0.1775) # 1 Qualifier: 101S AQUATIC THERAPY DENISE HODGES, EMPORIA, KS SAME 12.0047, 86.1231 (0.0549) PERSONAL WATERCRAFT Winner – DOMINATOR NATE STEPHENSON, SHAWNEE, OK RANDY BALL, SHAWNEE, OK Runner-up OHEEZY ON THE SHAMRO RYAN O'HARA, OLATHE, KS SAME 17.3732, 53.0995 (0.3230) 14.5740, 64.0381 (0.3947) # 1 Qualifier: 996S JUST A LITTLE QUICKI HALEE MCINTYRE, BROKEN BOW, OK JOE MCINTYRE, BROKEN BOW, OK 17.7558, 53.6994 (0.1085) Next on the dirt: Open-wheel action returns to the Lucas Oil Speedway dirt track next Saturday night. It will be the Lucas Oil ASCS National Winged Sprint Car Tour Presented by MAVTV Motorsports Network for the finale of ASCS Bob Westphal Memorial Cup Speedweek 2017.  In addition, the Lucas Oil POWRi WAR Sprint Car Series will be on hand. Gates open at  5 p.m. with hot laps at 7 and racing at 7:35.
For ticket information contact admission director Nichole McMillan at (417) 282-5984 or by email at [email protected].
For complete Lucas Oil Speedway event information, archived stories, ticket info and the 2017 racing schedule, visit LucasOilSpeedway.com.
Lucas Oil Speedway is located at Highways 83 and 54 in Wheatland, Missouri. A campground with shower and bathroom facilities is also available. With its entrance located just outside the pit gate this sprawling scenic camping facility will continue to enhance the racing experience at the Diamond of Dirt Tracks.
Click www.LucasOilSpeedway.com for more information and detailed directions to the speedway or call the Track Hotline at (417) 282-5984.
In addition, fans can get social with Lucas Oil Speedway by following @LucasSpeedway on Twitter, clicking "Like" atwww.facebook.com/LucasOilSpeedway and on www.youtube.com/LucasOilSpeedway.
CONTACT:
Dan RobinsonLucas Oil Speedway General ManagerLucas Oil MLRA Series DirectorOffice: (417) 282-5984
About Lucas Oil Speedway 
Lucas Oil Speedway is considered by fans, drivers and industry insiders to be one of the top five race tracks in the nation. Located in Wheatland, Missouri, approximately an hour from Springfield, Missouri, and just a quick hour and a half from the Kansas City metro area, dubbed the "Diamond of Dirt Tracks," Lucas Oil Speedway certainly lives up to the title.
Twenty-One VIP Luxury Suites, HD Jumbo-Tron Screen, Stadium Style Musco Sports Lighting, a Bose Sound System, Go-Kart Slick Track, The Diamond Bar, Track Treasures Gift Shop, the best track food in the country and paved pits are a few of the spectacular amenities setting the Diamond of Dirt apart. 2017 marks the 7th season for the Liquid Quarter Mile Drag Racing Lake, Lake Lucas. Two nationally televised Drag Boat Races featuring the Lucas Oil Drag Boat Racing Series will be held in 2017. New for 2017 will be an all new purpose build Off Road Racing facility featuring the Lucas Oil Off Road Racing Series as well as a host of other regional events.
Lucas Oil Speedway hosts some of the largest and most popular events in the Midwest! National and regional touring series appear frequently for Special Events on the Diamond of Dirt Tracks. The Lucas Oil Late Model Dirt Series, POWRi Midget National Series, Lucas Oil Pro-Pulling League, United States Modified Touring Series, ASCS Sprint Cars and the Lucas Oil MLRA.
In addition to the incredible Special Events, the Lucas Oil Speedway Big Adventure RV Weekly Racing Series features the Warsaw Auto Marine & RV ULMA Late Models, Pitts Homes USRA Modifieds, Big O Tires Street Stocks and the Ozark Golf Cars USRA B-Mods, racing weekly.
2017 Official Lucas Oil Speedway Marketing Partners
Bill Roberts Chevrolet-Buick
"The Official Truck" of Lucas Oil Speedway
Ozarks Coca-Cola/Dr. Pepper
"The Official Soft Drink" of Lucas Oil Speedway
E3 Spark Plugs
"The Official Spark Plug" of Lucas Oil Speedway
GEICO
"The Official Insurance" of Lucas Oil Speedway
General Tire
"The Official Tire" of Lucas Oil Speedway
Lucas Oil Products
"The Official Oil" of Lucas Oil Speedway
MAVTV
"The Official Television Network" of Lucas Oil Speedway
OPTIMA Batteries
"The Official Battery" of Lucas Oil Speedway
RacingJunk.com
"The Official Classifieds" of Lucas Oil Speedway    Spartan Mowers
"The Official Mower of Lucas Oil Speedway"
Sunoco Race Fuels
"The Official Fuel" of Lucas Oil Speedway
2017 Lucas Oil Speedway Supporters Include:
Advanced Automotive Repair, ALPS Food Store, AM Pyrotechnics, American Broadband, American Racer Race Tires, Andy's Frozen Custard, AR Bodies, Ash Grove Aggregates, ASI Racewear, The BarnWood Inn, Benton County Tire, Berry Tractor and Equipment Co., Big Adventure RV, Big O Tires, Bill Roberts Chevrolet-Buick, Bolivar Farmers Exchange-MFA, Bridal Cave, BWI Sanitation, Candlelight Creations-Dick's Wild Root Horseradish, Carson's Corner Napa Auto Parts, Casey's General Stores, Chix Gear Racewear, Citizens Memorial Healthcare, Clearlight Inn, Comfort Inn-Bolivar, Crappie Hole Bar & Grill, DirtonDirt.com, Dr. Petteway-D.D.S, Eibach Springs, Elite Auto Repair, Fast Shafts by Axle Exchange, Foley Equipment-Cat Rental Store, FORR-Local 27, Frogs Signs, Happy Trails RV Center, Harbor Campground & Marina, Hermitage Lumber, Hobbytime Motorsports, Hoosier Race Tires, Impact Signs Awnings Wraps, inthepits.net, In the Garden of Eden, Jake's Corner Cafe, JH Custom Wheel & Accessory, Kenny Carroll Excavating, Kettle Treats, Keyser Manufacturing, Kluhsman Racing Components, Kona Ice, Lawless Harley-Davidson, Lucas Cattle Company, Midwest Low-E Insulation, Midwest Sheet Metal, National Wild Turkey Federation, Nemo Marina, Nemo Quarry, NMI/VMG Marketing Group, OakStar Bank, O'Bannon Bank, Old Kinderhook Golf Resort, Oil & Octane Shop, Out-Pace Racing Products, Ozark Golf Cars, Ozarks Coca-Cola/Dr. Pepper, Ozarks Insurance Agency, Petro Stopping Centers, Pitts Homes, Pitts Realty, Pitts Cattle, RACEceiver, PolyDock Products, QC Moto, RaceNote, Racinboys.com, RacinDirt.com, RacingJunk.com, Rains Ice Company, Real Racing Wheels, Ron Jenkins Accounting & Tax Service, Route 66 Biker Gear, S & H Farm Supply, SBU Athletics, Scott Furniture, Shadow Lake Golf Course, Sidetrack RV Park, Sleep Inn-Camdenton, Southwest Electric Cooperative, Spartan Mowers, Stillwater Resort, Sunoco Race Fuels, Sunflower Resort, Tom & Jenn's Discount Cigarettes & Liquor, Travel Centers of America, Triangle Quick Shop, US Army Corps of Engineers-Pomme de Terre, Warsaw Auto Marine & RV, Wheatland Motel, Wheeler & Sons Livestock Auction, White's Marine Center, Whitetail Trophy Hunt, Wild Animal Safari.