Bryan Sanders Continues to Dominate Pro Drag Boat Racing in 'Nitrochondriac' Top Fuel Hydro Boat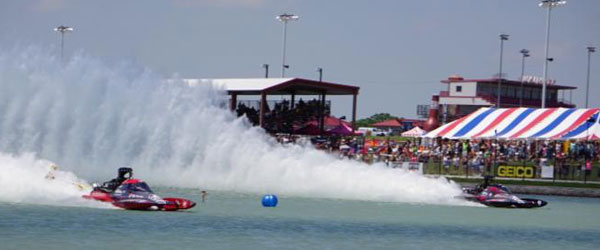 WHEATLAND, Missouri (June 10, 2017) – It's been almost two months since the last Lucas Oil Drag Boat Series race but the downtime has done little to slow Houston-based Top Fuel Hydro pilot Bryan Sanders, who once again steered his "Nitrochondriac" entry to the No. 1 qualifying spot with a Saturday morning pass of 3.466 seconds at 260.80 mph at the John Haas Memorial Nationals.
Andy Reynolds (Top Alcohol Hydro), Tony Scarlata (Top Alcohol Flat), Shelby Elbert (Pro Mod) and Robert Leas (Pro Outlaw) also finished atop their respective classes at the beautiful Wheatland facility.
"It's been a good weekend so far," Sanders said. "Our boat's still running great. Last pass we tried a new set of gears and it didn't seem to like those as much as the old ones so we put the others back in it and it should be ready for tomorrow.
"This crazy wind out here today played a factor in trying to keep this thing straight off the line and in judging the clocks as to when you're going to hit the gas. Going through the course itself is all fine but when you get to the big end, it was trying to put me in the other lane. It's been a wild day."
Scott Compton's "Liquid Voodoo" boat secured second place in Top Fuel Hydro spot for Tommy Thompson Racing with 3.611 at 245.86 mph.
"Today went really well," Compton said. "This boat is basically brand new this year so from the first race we've been trying to work things out. Second race we had some small difficulties that were nothing to do with the boat, just weird mechanical stuff, but we are getting it figured out now and the crew is getting confidence in me."
In Top Alcohol Hydro, Reynolds' "Running With Scissors" used a Friday qualifying time of 4.453 at 199.23 mph to secure the top spot going into Sunday's eliminations.
"We unloaded off the trailer Friday and made a good lap right away, a 4.45 at 199 mph, which held up for No. 1 qualifier," Reynolds said. "We made another good pass this morning and would have liked to have gotten another one this afternoon but the blower belt came off. It happens. No matter what, we are ready for tomorrow."
Owner/driver Mike DeClark is nipping at Reynolds' heals with a 4.491-second pass at 198.92 mph in his "Lil White Lie" boat.
Veteran Lucas Oil driver Scarlata snagged the top spot in Top Alcohol Flat when his all-new "Shazam" entry posted a 5.089 at 164.19 mph during Friday's action.
"Yesterday we qualified No. 1, set the ET record, and got a leg on the mph mark but today was just a day to try to drive safe and conservatively and see what I can get away with. It didn't go great for us but we are still trying stuff with the new boat."
Unfortunately, No. 2 qualifier Don Bausher's boat "Habit-forming" is done for the weekend after a scary incident Friday that took out the whole left side of the boat.
"That was a little nasty," Bausher said. "We let her get too hot and she broke a few things and decided to take me for a wild ride but we're all okay. The boat's done but we are good. The safety the Lucas Oil Series puts in place is the reason I am standing here right now."
The weekend is unfolding a little better for Ebert, who is sitting atop the Pro Mod field after clocking a 7.034 at 179.16 mph in her bright pink "Can't Touch This" entry.
"My day has been up and down," Ebert said. "I barely made it to both qualifying rounds but ended up No. 1 with our 7.03 from yesterday, which is unheard of in the Pro Mod class. A 7.03 usually doesn't get the No. 1 spot so we are really happy. Our motor is running again and we went out here and made a pass that has us really excited for tomorrow."
In the Pro Outlaw division, Leas didn't have to travel too far from his home in Climax Springs, Mo., to secure the top qualifying position with a 5.416 at 165.64 mph.
"Today turned out pretty good," Leas said. "We struggled yesterday but came out of the box today and made some wholesale changes with more gear and more motor. We came right out and ran a 5.41 that put us No. 1 and it held up for the day. We should be good for tomorrow. The air is supposed to be the same as it was today so we ought to be right there."
Sportsman class top qualifiers include Daryl Busby in Pro Eliminator, Rock Guthrie in Quick Eliminator, Kevin Conklin in Top Eliminator, Terry Olson in Modified Eliminator, Hardy Cole in Stock Eliminator, Denise Hodges in River Racer and Hale Mcintyre in Personal Watercraft.
Founded in 1989 by Forrest and Charlotte Lucas, Lucas Oil Products is the world leader of high-performance lubricants and problem-solving additives and produces and markets more than 270 unique formulations in more than 40 countries. Products include engine oils, greases, gear lubes, problem-solving additives, and car-care products. Please visit LucasOil.com for more information.