Robbins, Nitro Nuts celebrate surprise Top Fuel win at Diamond Drag Boat Nationals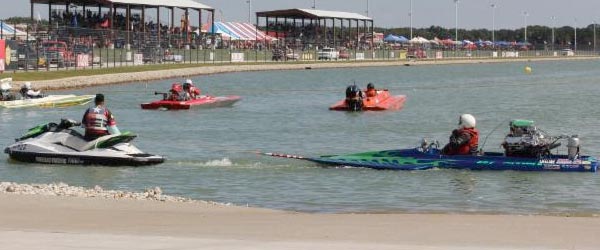 Wheatland, Missouri (September 4, 2016) – Hugs and high-fives came from all corners of the pit area Sunday after Mike Robbins pulled off what had to be the upset victory of the year in the Lucas Oil Drag Boat Racing Series' Top Fuel Hydro divison.
"Man, I'm just about speechless. I'm in shock," Robbins said after piloting Nitro Nuts past the Scott Compton-driven Liquid Voodoo in an all first-timer's final in the 6th annual Diamond Drag Boat Nationals at Lucas Oil Speedway.
Robbins ran a 3.79 elapsed time for 1,000 feet at 226.31 miles per hour. He easily outdistanced Compton, who eased his boat before the finish.
"This is the just the second race and the eighth pass on the boat," Robbin said. "It took us two years to get everything in place. We wanted to race the first week we got the boat, but were like, 'No, we have to be patient. We have to get the right parts and get the right people.' It worked."
Robbins, of Youngsville, North Carolina, shocked Top Fuel Hydro championship leader Bryan Sanders in Nitrochondriac in the semifinals. Earlier, Liquid Voodoo, a boat owned by NHRA Top Fuel Drag driver Scott Palmer of Cassville, Mo., upset Daryl Erlich and Problem Child to reach the final with a blistering run of 239.41 miles per hour.
With only one other event in the boat this season, Robbins said the weekend played out like a dream.
"You hope," he said of his realistic chances for victory. "Round after round, we kept winning. I red-lighted in the second round and it was so bad that I was bummed the whole ride. But (the opponent) didn't crank. We got lucky."
Robbins has been something of a nomad in a boat-race career that began in 1997, seeing him race for a number of teams. He's driven three different Top Fuel boats this year alone before getting his own Nitro Nuts team going with a crew that he said is literally from all over the map.
He said the victory was special for many reasons, but quickly dedicated it to reigning Top Fuel Hydro champion Scott Lumbert who was critically injured in a racing accident last month.
"We just want to giver a shout-out to Scotty and all the Spirit of Texas team," Robbins said. "It's a big family out here."
Liquid Voodoo fell short in the final, but it still felt like a victory for the team. Palmer, who's back on the NHRA road next week driving his Top Fuel dragster, considers Wheatland's Lucas Oil Speedway his hometown track for the boat team.
"It's great to do it anywhere," Palmer said. "We've only had this boat, our 14th race with a Top Fuel Hydro. To do this well at our hometown race? It's even better."
Other pro division winners in Sunday's finals were: Rick Allen of Fort Smith, Ark., in Total Kaos (Top Alcohol Hydro), Bill Miller of Taylor, Texas driving Party to the Max (Top Alcohol Flat), Tim Ortiz of Conroe, Texas aboard Empty Pockets (Pro Mod), Gus Word of Sonora, Texas in Whiskey Tango Foxtrot (Pro Outlaw) and David Schmidt of Smithton, Ill., driving Just Another Quickie (Pro Eliminator).
For complete Lucas Oil Speedway event information, archived stories, ticket info and schedule information for the season, visit lucasoilspeedway.com.
Action at Lucas Oil Speedway resumes Sept. 16-17 with the Lucas Oil Pro Pulling Nationals.
SUNDAY'S RESULTS 6th ANNUAL DIAMOND DRAG BOAT NATIONALS TOP FUEL HYDRO
NITRO NUTS MIKE ROBBINS YOUNGSVILLE, NC MIKE ROBBINS, YOUNGSVILLE, NC, 3.7993, 226.3139 LIQUID VOODOO/LUCAS SCOTT COMPTON O'FALLON, IL SCOTT PALMER, CASSVILLE, MO 4.7986 127.0136 # 1 Qualifier: 246L NITROCHONDRIAC BRYAN SANDERS HOUSTON, TX TOMMY THOMPSON, LOCUS GROVE, OK 3.4720, 263.0603
TOP ALCOHOL HYDRO
TOTAL KAOS RICK ALLEN FT. SMITH, AR RICK ALLEN, FT. SMITH, AR 4.454, 201.8724 RUNNING WITH SCISSORS ANDY REYNOLDS LAKE WYLIE, SC ANDY REYNOLDS, LAKE WYLIE, SC 4.4936 196.3157 # 1 Qualifier: 150S TOTAL KAOS RICK ALLEN FT. SMITH, AR RICK ALLEN, FT. SMITH, AR 4.3355, 202.5567
TOP ALCOHOL FLAT
PARTY TO THE MAX BILL MILLER TAYLOR, TX MAX & LINDA DAVIS, MONTGOMERY, TX 5.7825 143.2815 THE OKLAHOMAN RANDY BALL SHAWNEE, OK RANDY BALL, SHAWNEE, OK 8.18888, 58.4237 # 1 Qualifier: 076L HABITFORMING DON BAUSHER LAS VEGAS, NV DON BAUSHER, LAS VEGAS, NV 5.2692, 152.7435
PRO MOD
EMPTY POCKETS TIM ORTIZ CONROE, TX PAT KINSEY, CONROE, TX 7.1605, 161.3595 JUST 1 MORE MIKE LAMB GREENFIELD, IA MIKE LAMB, GREENFIELD, IA 7.1522, 163.0044 # 1 Qualifier: 410K CLIMAX TYLER SPEER WOODSTOCK, GA TYLER SPEER, WOODSTOCK, GA 7.0038, 169.5934
PRO OUTLAW
WHISKY TANGO FOXTROT GUS WARD SONORA, TX GUS WARD, SONORA, TX 5.4377, 164.8935 SPLIT DECISION 2 SHANNON BEAL SHAWNEE, KS STEVE BEAL, BONNER SPRINGS, KS 5.5770, 164.6704 #1 Qualifier: 777L REAL BAD BOY ERIC DEMENT LULING, TX ERIC DEMENT, LULING, TX 5.4073, 165.0971
PRO ELIMINATOR
JUST ANOTHER QUICKIE DAVID SCHMIDT SMITHTON, IL DAVID R SCHMIDT, SMITHTON, IL 7.9629, 140.6909 FUELIN AROUND JOHN IVANCIK LUSBY, MD JOHN IVANCIK, LUSBY, MD 0.000, 0.000 # 1 Qualifier: 269M CRAZY TRAIN TIM CONNELLY ST. ANN, MO TIM & MARG CONNELLY, ST. ANN, MO 8.0047, 145.2768
QUICK ELIMINATOR
FISH KILLER RONNIE SMITH CENTRAL CITY, KY RONNIE SMITH, CENTRAL CITY, KY 7.1416, 124.1771 ANOTHER WET DREAM TODD EBERT WAMEGO, KS TODD EBERT, WAMEGO, KS 6.1385, 148.4840 # 1 Qualifier: 815S HYDRO COMMANDO JOE MC INTYRE BROKEN BOW, OK JOE MCINTYRE, BROKEN BOW, OK 6.0012, 134.8308
TOP ELIMINATOR
BLOWN MONEY KELVIN PERKINS RUSSELLVILLE, KY KELVIN PERKINS, RUSSELLVILLE, KY 9.5310, 95.6173 BLURRED LINES G W GOFF CATOOSA, OK G W GOFF, CATOOSA, OK 18.638, 36.3798 # 1 Qualifier: 828S TEXAS HIGHRISK KEVIN CONKLIN MIDLAND, TX JIM BURNS, CORPUS CHRISTI, TX 9.0016, 106.7929
MODIFIED ELIMINATOR
BILL MILES IMPERIAL, MO BILL MILES, IMPERIAL, MO 10.0966, 103.3629 BAD INFLUENCE JEREMY SCHMIDT SMITHTON, IL DAVID R SCHMIDT, SMITHTON, IL 9.9940, 102.6483 # 1 Qualifier: 437K BAD INFLUENCE JEREMY SCHMIDT SMITHTON, IL DAVID R SCHMIDT, SMITHTON, IL 10.0028, 92.4708
STOCK ELIMINATOR
BOOGER RED DANNY ANDERSON JERSEY, AR MICKEY HARLOW, ODESSA, TX 11.1127, 80.9348 STEAK & SHAKE BILL GLISSON AUGUSTA, GA BILL GLISSON, AUGUSTA, GA 11.0160, 99.0790 #1 Qualifier: 745K EUROTAN EXPRESS ROB PARKS CARRIER MILLS, IL ROB PARKS, CARRIER MILLS, IL 11.0117, 90.6811
RIVER RACER
THE SLIPPERY PICKLE TYLER BOEHME RIO MEDINA, TX TYLER BOEHME, RIO MEDINA, TX 12.1198, 74.2992 MY ALIBI BRIAN ELLEDGE TERLTON, OK BRIAN ELLEDGE, TERLTON, OK 12.6549, 81.7165 # 1 Qualifier: 746S BLACKIE'S MAGIC GLENDON BOEHME RIO MEDINA, TX GLENDON BOEHME, RIO MEDINA, TX 13.4083, 74.8477
PERSONAL WATERCRAFT 1
NO REIMER REASON DOUG REIMER CHESTERFIELD, MO DOUG REIMER, CHESTERFIELD, MO 14.6828, 64.5911 OHEEZY ON THE SHAMRO RYAN O'HARA OLATHE, KS RYAN O'HARA, OLATHE, KS 14.4781, 64.0241 # 1 Qualifier: 008K NO REIMER REASON DOUG REIMER CHESTERFIELD, MO DOUG REIMER, CHESTERFIELD, MO 14.6120, 64.9067
PERSONAL WATERCRAFT 2
DOMINATOR NATE STEPHENSON SHAWNEE, OK RANDY BALL, SHAWNEE, OK 17.9421, 51.7561 NUCLEAR FISHIN' 3 KYLE KINDLEY INOLA, OK KYLE KINDLEY, INOLA, OK 14.8160, 64.5660 # 1 Qualifier: 363S DOMINATOR NATE STEPHENSON SHAWNEE, OK RANDY BALL, SHAWNEE, OK
Lucas Oil Speedway is located at Highways 83 and 54 in Wheatland, Missouri. A campground with shower and bathroom facilities is also available. With it's entrance located just outside the pit gate this sprawling scenic camping facility will continue to enhance the racing experience at the Diamond of Dirt Tracks.
Click www.LucasOilSpeedway.com for more information and detailed directions to the speedway or call the Track Hotline at (417) 282-5984.
In addition, fans can get social with Lucas Oil Speedway by following @LucasSpeedway on Twitter, clicking "Like" at www.facebook.com/LucasOilSpeedway and on www.youtube.com/LucasOilSpeedway.