Liquid Voodoo shatters Top Fuel Hydro speed record at Lucas Oil Drag Boat Series World Finals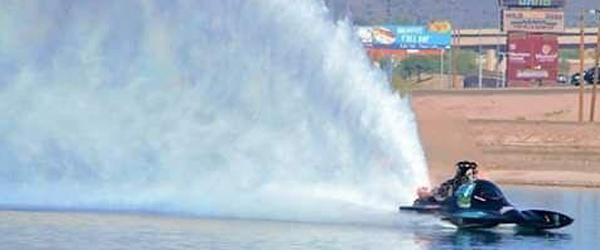 CHANDLER, Arizona (November 5, 2018) – The Lucas Oil Drag Boat Racing Series season came to a conclusion on Sunday with a world-record speed set in the Top Fuel Hydro division at the General Tire World Finals at Wild Horse Pass Motorsports Park.
Kebin Kinsley, driving the Liquid Voodoo boat co-owned by Tommy Thompson and Scott Palmer, went 264.3648 miles per hour with an elapsed time of 3.1419 seconds in the finals over the 875-foot course. Liquid Voodoo defeated Lou Osman's Speed Sports Special, piloted by Jarrett Silvey, in the finals.
Earlier, Liquid Voodoo blistered the course at 265.9888 mph in a semifinal win over Mike Robbins in Nitro Nuts to set the speed record. That was more than 20 miles per hour better than the 243.9502 set by Robbins in Nitro Nuts earlier this fall at Lucas Oil Speedway in Wheatland, Missouri.
In other finals on Sunday:
Top Alcohol Hydro: Kent Price in Black Draggin (4.3639 ET, 203.9798 mph) defeated Randy Ball in Okie Flash (4.4290, 194.6961). Black Draggin was the No. 1 qualifier.
Top Alcohol Flat: War Party, driven by Bill Diez and owned by Nancy Davis (5.2493, 148.9198) upended top-qualifier Tony Scarlata in Shazam (5.0665, 158.6647). War Party was the No. 2 qualifier.
Pro Outlaw: Jason Mullican in No. 3 qualifier Hillbilly (5.4688, 139.1995) prevailed over Robert Leas in Wildfire (no speed). Leas had knocked off top-seeded Jim Richards' Alka-Hauler in the semifinals.
Pro Mod: Can't Touch This driven by Shelby Ebert (5.5884, 168.2215) prevailed as the No. 4 qualifier over top seed Shawn Reed in Top Secret (5.5792, 158.3888).
Quick Eliminator: Red Hot, driven by Ed Anderson (6.0299, 144,4608) completed a run fro No. 7 qualifier to defeat top seed Sucker Punch driven by Jeff Luehring for the win.
Pro Eliminator: No. 2 qualifier Sean Giroux in Flat Cook-N (6.6100, 122,6570) beat No. 10 seed Jeff Swigert in Its Complicated (6.6226, 119.7742).
Top Eliminator: All the way from the No. 13 qualifying position, Jake Yaeger in Another Orangegasm (7.0485, 92.8422) upended No. 2 qualifier Tim Lewis in Hare Trigger (7.0850, 120.2351).
Modified Eliminator: Ronnie Jennings drove No. 2 qualifier Ludicrius (8.115, 89.6730) past top seed Gery Henning in The Jackal (8.1071, 109.9301).
Stock Eliminator: Fifth seed Super Clean, driven by Bill Glisson (9.0236, 87.4337) beat No. 4 qualifier Tyler Salsman's Misfit (9.1447, 98.0705).
River Racer: Glendon Boehme aboard No. 7 qualifier Blackie's Magic (10.3326, 70.9898) beat No. 5 Scott Dolezal aboard Thunder Struck (10.0914, 78.4512).
Personal Watercraft: Nate Stephenson as the No. 5 qualifier aboard Dominator beat No. 3 seed Tom Tutera's Dark Knight (11.5599, 60.5518).
CONTACT:
Dan Robinson
Director of Racing Operations, Lucas Oil Drag Boat Racing Series
Office: (417) 282-5984
[email protected]