Top Fuel Hydro Pilot Bryan Sanders Pulls Off Hat Trick with Third Win of Lucas Oil Drag Boat Racing Series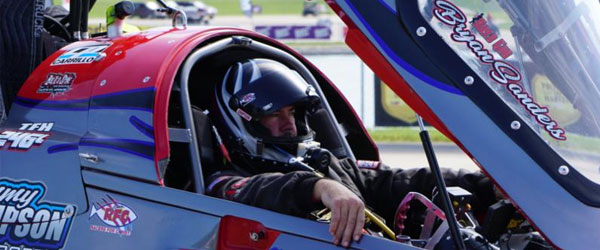 Travis Tuttle (Top Alcohol Hydro), Tony Scarlata (Top Alcohol Flat), Shawn Reed (Pro Mod) and Eric Dement (Pro Outlaw) fill out winner's circle
WHEATLAND, Missouri (June 11, 2017) – Bryan Sanders already had the win before he ever put Tommy Thompson's "Nitrochondriac" Top Fuel Hydro boat in the water for the finals of the John Haas Memorial Nationals Sunday. That's because his scheduled opponent, Kevin Burgess, couldn't make the call in his "Locked and Loaded" entry, giving Sanders what would have been an uncontested victory pass.
But an unrelenting high wind that permeated the weekend became too much too handle and the final rounds of Top Fuel Hydro, Top Alcohol Hydro and Top Alcohol Flat were called off by race officials. Ultimately, winners in the sport's top three categories were determined by numbers posted in the semifinals.
"Even though Burgess was done, we still wanted to go out and put on a show for the fans," Sanders said. "It turned into a situation where it became unsafe. We would have rather raced for it, but we'll take the win. I have to take some time out to say that Tom Conway and his crew — Mike Boyd, Steve Hill and Sally Knight — they do a lot of work for us, we appreciate all of it."
Sanders is now three for three as the series heads to his home state June 23-25 for the Showdown in San Angelo.
Burgess was upset about the way his weekend ended but offered an explanation for the no show in the final.
"Unfortunately, we had some catastrophic engine problems and just couldn't get the thing turned around in time to get out there and give Bryan a little run for his money," Burgess said. "The good news is we moved up in the points a couple spots by making it to the finals and we're just gonna keep on chipping away at this 'Locked and Loaded' Lucas Oil Top Fueler. She's starting to go faster and faster every time."
The canceled Top Alcohol Hydro final gave Travis Tuttle the win over Dale Riggs based on their semifinal runs where Tuttle had 4.503 at 196.46 mph to beat Rick Allen, which topped Riggs' earlier pass of 4.951 at 178.60 mph that took out top qualifier Andy Reynolds.
"We had a good weekend," Tuttle said. "We didn't attend the Parker event so this was just the second race for the new boat. For it to run consistent 4.50s all weekend was great to see. Nobody else was really running much better, so I guess it's just the weather here. We would have liked to make that last run because we need all the points we can get after skipping Parker and that extra 100 points would have been nice, but we'll take this win with a smile."
Another driver who remains undefeated in 2017 was "Shazam" pilot Tony Scarlata, who also didn't get a final round run due to the wind. His consolation was the good vibes he was riding after setting the top speed record for his class earlier in the day when he went 166.862 mph.
Scarlata's 5.182 at 164.23 mph in his semifinal victory over Bill Diez gave him the event win over Bill Miller, who posted a 5.966 at 93.26 in his unopposed semifinal run.
"You know, that's the dream weekend right there," Scarlata said. "We have only made five passes in the new boat, already got a couple of records, and we got a steady and fast world-beater here. Bill's guys did a great job over there with the 'Party to the Max' boat to get to the final and we got them on low elapsed time.
"It's a testament to my team and I can't express how proud I am of them."
Miller has been chasing Scarlata all season and plans to make changes to close the gap.
"We are happy to get runner-up to a world record boat," Miller said. "But we want more. We have agreed to sell this boat and get one like Tony's that we feel can be faster. We just can't accept Tony Scarlata having the record. We are going after that record with all we got. That's why we started in this class and our goals are clear — to win a championship and set a record."
Before the wind made the water too choppy, the Pro Mod class did crown a champion and once again it was Shawn Reed, who also remains undefeated on the season. Reed took the trophy in his "Top Secret" boat with a 6.998 at 172.78 mph against Marty Logan's 7.074 at 167.81 mph in his "Livin' The Dream" boat.
"It was an eventful weekend because we qualified Friday and then I hopped on a plane to Seattle for my daughter's wedding," Reed said. "I did wedding stuff all day Saturday then left at 11:15 p.m. to head back to Dallas. A buddy of mine, Joel Weber, a champion himself in Alcohol Hydros, met me there and flew me back on his plane so I could get here in time. I'm running on no sleep but we were able to keep our win streak going."
Eric Dement won Pro Outlaw in his "Real Bad Boy" boat thanks to a massive holeshot over Tommy Thompson's "A Few Dollars More" entry. Thanks to a .905-second headstart, Dement won with a 5.937 at 111.96 mph to Thompson's 5.461 at 158.49 mph.
"Our weekend ended up great," Dement said. "We struggled chasing numbers Saturday, but we threw the kitchen sink at it and came out ahead. We're ecstatic, you know, because it's been a long
time coming."
"Overall it was a good event," Thompson added. "The wind was a little rough on us, but that's part of racing. We wound up setting a record with one of my other boats (Shazam) and this place was just phenomenal like always and I love it. We would have liked to have won Pro Outlaw too but it didn't happen. We're still very happy."
Other winners on the weekend included Tim Connelly in Pro Eliminator, Steve Prewit in Quick Eliminator, Kelvin Perkins in Top Eliminator, Al Kirsch era in Stock Eliminator, Tracy Lowe in River Racer and Nate Stephenson in Personal Watercraft.
Founded in 1989 by Forrest and Charlotte Lucas, Lucas Oil Products is the world leader of high-performance lubricants and problem-solving additives and produces and markets more than 270 unique formulations in more than 40 countries. Products include engine oils, greases, gear lubes, problem-solving additives, and car-care products. Please visit LucasOil.com for more information.