By land or water, speed is the name of the game for Lucas Oil Drag Boat Series double leader Tyler Speer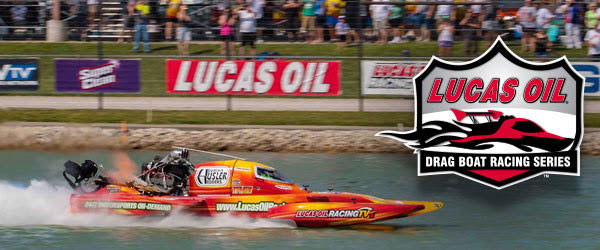 Corona, CA (July 25, 2018) – Tyler Speer has driven just about everything on dirt, pavement and water. Ask him to pick a favorite and he politely defers, saying that as long as he's going fast that is all that matters.
"They're all just so different," Speer said of a racing resume that started with motocross at age 5 and includes short-track crate late models, ARCA stock cars on dirt and pavement and, in the last few years, drag boats.
"I enjoy the uniqueness of all of them," the 27-year-old Speer said. "They all have their specialties that make them a blast to drive."
But these days, Speer is standing out for his work on the Lucas Oil Drag Boat Racing Series. The Woodstock, Georgia resident is chasing a first of its kind double championship, leading the points in both the Top Fuel Hydro and Pro Outlaw divisions.
The next step will come at the 8th annual Diamond Drag Boat Nationals, Aug. 31-Sept. 2 on "Lake Lucas" in Wheatland, Missouri. While there could be some ARCA dirt racing before that, Speer is otherwise clearing his racing slate to focus on the drag boats – where he's picked up a new title in 2018.
The Fastest Man on Water will take aim at a third straight Top Fuel Hydro win at Wheatland, where he scored his first back in June, aboard Robert Montgomery's "Shockwave" in just Speer's seventh career Top Fuel start. He went 233.44 miles-per-hour with an elapsed time of 3.252 seconds, records at the 875-foot course length.
"I think it's still sinking in a little bit," Speer said of the implications of backing that up with his second straight Top Fuel win, last month in San Angelo, Texas. "It's pretty cool to back it up. It puts some of the doubts of, 'it was a one-time-fluke type of thing' to rest.
"Our whole team seems to be jelling. We haven't missed any qualifying rounds that we've wanted to make. It was a pretty big confidence booster for the team and for me as a driver to win again."
Speer already was established in the Pro Modified and Pro Outlaw divisions when he got his Top Fuel license at Wheatland in 2016. He went on to win the Pro Modified championship that year. Originally, it was the team's intent only to run Pro Outlaw a full season in 2018 and campaign the Top Fuel boat only in selected events.
But that plan has changed after the wins vaulted him into the points lead there as well. Speer has a 67-point advantage over Jarrett Silvey in Lou Osman's "Speed Sport."
"We're kind of running on some older technology," Speer said. "For us to do what we're doing now, and running the times that we're running without any major issues, it's pretty incredible."
To be at the summit of the Lucas Oil Drag Boat Racing Series' fastest division, while surprising in many ways, also seems a bit of destiny. Speer grew up around the sport, as he father, Tim Speer, raced drag boats in the 1980s and '90s. Both of Tyler Speer's boats display the No. 410, which is the same as Tim's back in the day.
But Tyler Speer was not immediately attracted to boat racing. He started out in motocross at the age of five and said he was more drawn to stock cars than boats when old enough to drive a vehicle.
A few years ago at Wheatland, Tyler Speer got behind the wheel of a Top Eliminator boat and made a lap.
"I was like 'this is pretty cool.' It's snowballed after that," he said.
That includes handling the mix of adrenaline and danger that fascinates so many fans, especially those who are drawn to the Top Fuel Hydros.
"I get a lot of people who ask me what it feels like," Speer said of going from 0 to 233 in less than four seconds. "It's probably a lot like taking off in a jet airplane and how it sets you back in the seat. But this is a lot quicker. Multiply it by the 'G' forces and it stays that way for 875 feet.
"It's a different rush than the Pro Outlaw. It sets you back when it takes off, but it doesn't keep you stuck in the seat like the Top Fuel does."
As for the danger element, Speer said the confidence he has by the safety measures his team has installed puts him at ease.
"Coming from the stock-car background, we try to bring over a lot of safety stuff inside our capsule," he said. "Anybody is welcome to stop by and check it out. I get into our boats because of the capsule and hull and everything else that we have. We try to go above and beyond and do the extra steps.
"That helps me get in there and get comfortable in the seat. I wouldn't say I don't think about it, but I don't worry about it."
Speer said a lot of casual fans might not realize the hundreds of hours it takes to ensure a safe, fast run that lasts only a few seconds.
Tyler and Tim Speer work day-time hours at Proboat in Woodstock, Georgia, building boats and tuning motors. They'll then work on the Pro Mod late into the night. On weekends, the Speers travel to Tennessee where the Top Fuel boat is housed and work on it.
"You have to live it, breath it and sleep it," Speer said. "It's an every-day, all-week-long type of thing."