New Racing Format For 2017 Season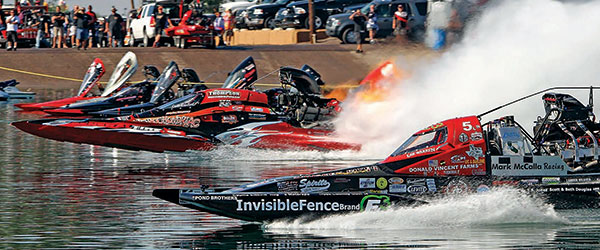 ATTENTION RACERS New Racing Format For 2017 Season. LODBRS Officials have issued a new racing format for the 2017 race season.
Effective immediately, the starting line holding rope will be located fifty (50) feet behind the starting line. The start clock will remain at the same location in order to facilitate a good view of the countdown. The shorter starting length was decided upon in order to help insure safety and also to make the starting sequence in drag boat racing more closely aligned to that which is seen in asphalt drag racing. Because of the shorter distance from the holding rope to the start clock, elapsed times will be affected and therefore, class indexes will have to be reset.
In order to determine the new indexes as quickly as possible, the ADBA/LODBRS Division 1 race event scheduled in Parker, Arizona during the weekend of February 10- 12, 2017 will provide for both 1,000- foot and 1,320-foot times and both capsule boats and open boats will be invited to run. A Test and Tune session will be held on Friday, February 10, to reset the indexes. Because some adjustments may need to be made after this first race, the LODBRS National Series opener at Wild Horse Pass in Chandler, Arizona will offer another Test and Tune opportunity on Friday, March 31, 2017 to tweak the new indexes. After that, the new indexes will be permanently set.
All racers are encouraged to attend the ADBA / LODBRS Division 1 season opener in Parker, Arizona in order to get a handle on reaction times and elapsed times About Team Lucas Team Lucas is an entertainment package for race fans across the country and a dynamic advertising and marketing medium for companies everywhere. Team Lucas showcases the Lucas Oil Late Model Dirt Series, Lucas Oil Pro Pulling Series, Lucas Oil Modified Series presented by 1800 Loan Mart, Lucas Oil Off Road Racing presented by GEICO, Lucas Oil Drag Boat Racing Series, Lucas Oil Speedway, Lucas Oil Production Studios and the Indianapolis Colts Lucas Oil Stadium. These Team Lucas entities represent over 300 annual live events. Trumping that statistic is 300 hours of prime time programming on national and international levels, orchestrated by Executive Vice- President Bob Patison. To sum it up, Team Lucas is a full circle grass roots marketing powerhouse designed to entertain the audience and perform for its partners. before the race season gets further underway.
For more information concerning the new racing format or any other questions regarding the Lucas Oil Drag Boat Racing Series, please contact Ken Dollar at (830) 265-4790.