LUCAS OIL INTRODUCES JUNIOR DRAG BOAT RACING LEAGUE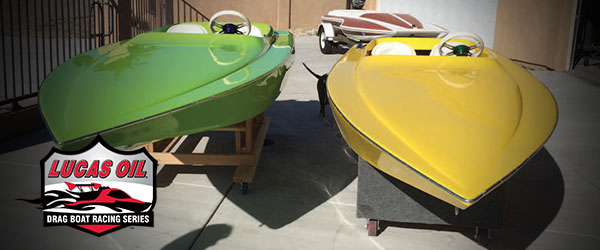 Parker, Arizona (March 4, 2015) – LODBRS officials, along with Geoff Archer and Twisted Liquid Marine are excited to announce the addition of a Junior Drag Boat Racing League to the Lucas Oil Drag Boat Racing Series. Construction has just been completed on a pair of Junior Drag Boats and are set to debut at the LODBRS season opening Colorado River Challenge in Parker Arizona during the weekend of April 10-12, 2015.
Modeled after the highly successful NHRA Junior Dragster Program, the LODBRS Junior Drag Boat Racing League is designed to create an entry class for future professional drag boat racers, providing young people with the competitive spirit of racing while instilling in them the value of good sportsmanship, self discipline and dedication to a racing program.
The program is available to young people between the ages of 10 and 16 years, and will be offered in two formats, either Driver or Ride Along. At minimum, JRDBRL drivers must have their own DOT helmet and a Coast Guard approved impact type life jacket and further requires that a registered LODBRS racer participates as a Ride Along. JRDBRL Ride Along participants are open to general spectating young persons who wish to ride along with a registered LODBRS racer. Lucas Oil officials will provide a helmet and life jacket to JRDBRL Ride Along participants if needed. Under both formats, all participants must register, complete a membership form, and both parents must sign a waiver. No fees are required for membership or registration.
The pair of pint-sized race boats will run as an exhibition class in 2015 at four LODBRS National events located in the state of Arizona. The class will be run on an 1/8- mile race course (660 feet), in a heads up fashion. Plans are in the making to expand the class to be included in the entire LODBRS National event schedule in 2016.
For further information on the Junior Drag Boat Racing League or the Lucas Oil Drag Boat Racing Series please call Ken Dollar at (830) 265-4790 or (951) 870-6381 or visit www.lucasoildragboats.com.
About Twisted Liquid Marine
Twisted Liquid Marine manufactures the finest custom mini boats in the USA. Based in Lake Havasu City, Arizona, LTM offers eight different models from 10 to 13 feet in length. All boats are available in various stages of completion to accomodate most any budget. From mild to wild, their hand-laid hulls are built to exacting standards with a primary goal of safety. Visit www.TwistedLiquidMarine.com for more information.