Lucas Oil Drag Boat Racing Series – LUCAS OIL DRAG BOAT RACING SERIES 2014 "RUN FOR THE RING" NATIONAL SCHEDULE IS RELEASED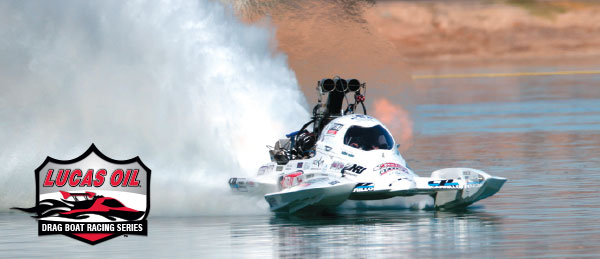 Schedule has been expanded to allow for Weather Days at selected venues. Lucas Oil is pleased to annouce the release of its 2014 "Run For The Ring" National Touring Series Schedule.
The 2014 LODBRS Series will consist of nine National Events which will include two races each at venues located at Wild Horse Pass Motorsports Park in Chandler, Arizona, Lake Havasu City, Arizona and Wheatland, Missouri. Additionally, both race events in Lake Havasu will provide for an additional race day on the Monday following the regularly scheduled date in the event of inclimate weather conditions. Likewise, the August Wheatland race
and the World Finals event will also be expanded to allow for a Monday "weather day" in order to facilitate the completion of eliminations rounds.
Racers and spectators alike should plan accordingly when scheduling travel arrangements in order to accomodate the new scheduling system.
The 2014 LODBRS National series will once again commence at the Wild Horse Pass Motorsports Park in Chandler, Arizona during the weekend of April 11-13, 2014 and will close the season at the same venue during the weekend of October 30-November 2, 2014. There will be two National Events in Lake Havasu City, and Wheatland, Missouri along with three additional premier race events in San Angelo, Texas, Augusta, Georgia and Marble Falls, Texas in June, July and August, respectively.
For more information on the Lucas Oil Drag Boat Racing Series please call Ken Dollar at (830) 265- 4790 or (951) 870-6381 or visit www. lucasoildragboats.com.
2014 RUN FOR THE RING NATIONAL TOURING SERIES SCHEDULE
April 11, 12, 13 Phoenix AZ May 2, 3, 4 * Lake Havasu AZ June 13, 14, 15 Wheatland MO June 27,28,29 San Angelo TX July 18, 19, 20 Augusta GA August 8, 9, 10 Marble Falls TX August 29, 30, 31 * Wheatland MO October 10, 11, 12 * Lake Havasu AZ Oct 30, 31 – Nov 1, 2 Phoenix AZ
* Monday Weather Day *