Lucas Oil Drag Boat Racing Series Secures Five Year Agrement in Chandler Arizona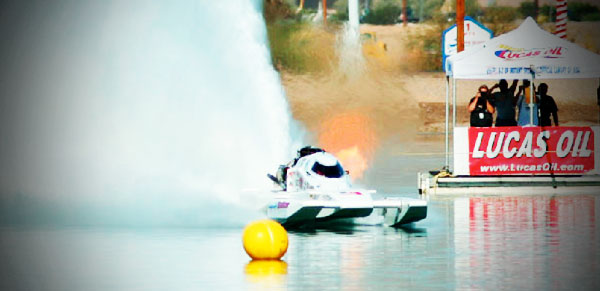 Two Races To Be Held Annually at Wild Horse Motorsports Park
Lucas Oil is pleased and excited to announce the implementation of a five year agreement with the Sun Valley Marina Corporation to stage two drag boat races annually at the newly renamed Wild Horse Motorsports Park in Chandler, Arizona, formerly known as Firebird International Raceway.
The Sun Valley Marina Corporation has hired Copper Train, LLC. to manage and operate the property and to handle the drag boat racing venue. Dick Hahne, a former Vice President of Operations with Daytona International Speedway, has been hired as President of the track to oversee the facility for the Sun Valley Marina Corporation.
LODBRS Director of Operations, Mike Chastain stated, "We are very excited about the opportunity to continue racing at this premier drag boat racing facility in Chandler, Arizona. This will serve as a tremendous boost to the sport."
The first 2013 race to be held at Wild Horse Motorsports Park will be on September 13-15 in place of the California Drag Boat Classic in San Diego, CA which was recently canceled. The second race will be the Lucas Oil World Finals scheduled for October 30-November 3. In 2014 and beyond, the first of the two drag boat races at Wild Horse Motorsports Park will be held in April.
RV sites are currently available. The cost for an RV site at the September race is $500 and at the World Finals is $750, or reservations can be made for both races at a reduced rate of $1,000. The price includes four all-access passes per race and one vehicle pass per race. Tickets are also available for the September 13-15, 2013 race event at the following rates:
Friday – $10.00 Saturday – $20.00 Sunday – $25.00
All Sessions – $50.00
For more information on RV site prices and availability at Wild Horse Motorsports Park or at the upcoming event at Lake Havasu, Arizona on October 11-13, please contact Todd Taylor at [email protected].
About Team Lucas
Team Lucas is an entertainment package for race fans across the country and a dynamic advertising and marketing medium for companies everywhere. Team Lucas showcases the Lucas Oil Late Model Dirt Series, Lucas Oil Pro Pulling Series, Lucas Oil Modified Series presented by 1800 Loan Mart, Lucas Oil Off Road Racing presented by GEICO, Lucas Oil Drag Boat Racing Series, Lucas Oil Speedway, Lucas Oil Production Studios and the Indianapolis Colts Lucas Oil Stadium. It is the most well rounded, action packed entertainment package ever offered. These Team Lucas entities represent over 300 annual live events. Trumping that statistic is 300 hours of prime time programming on national and international levels, orchestrated by Executive Vice-President Bob Patison. To sum it up, Team Lucas is a full circle grass roots marketing powerhouse designed to entertain the audience and perform for its partners.