Lucas Oil Drag Boat Racing Series title chases resume next month at Thunder on the River in Arizona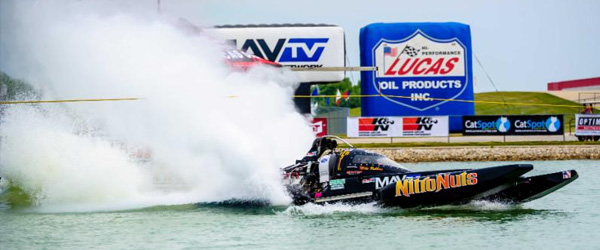 WHEATLAND, Missouri (September 13, 2018) – The Lucas Oil Drag Boat Racing Series championship chases remain up for grabs in four of the five pro divisions with the next event – Thunder on the River in Parker, Arizona – just a month away.
As competitors gear up for the Oct. 13-14 event at the BlueWater Resort & Casino, tickets are available online. Competitors are reminded that deadline for pre-registration is 10 days prior to the event and mailed entries must be postmarked by Oct. 1. For RV/Cabana inquiries, please contact Connie Bopp at [email protected].
Entering the next-to-last event prior to the Lucas Oil World Finals, Nov. 2-4 in Chandler, Arizona, things are especially tight in the Pro Mod division where Robb Burklin in "The Pearl" is just 28 points behind "Top Secret" driven by Shawn Reed.
After his record-breaking Top Fuel Hydro run of 243.9502 miles per hour to win the Diamond Drag Boat Nationals at Lucas Oil Speedway in Missouri earlier this month, Mike Robbins in "Nitro Nuts" has pulled within 106 points of Tyler Speer in "Shockwave."
Speer, meanwhile, will continue his attempt at a double championship at the Thunder on the River. The Georgia driver leads the Pro Outlaw division in his "Georgia Outlaw" by 112 points over Shannon Beal in "Split Decision."
A three-way title battle is shaping up in the Top Alcohol Flat class. Bill Miller in "Party of the Max" continues to lead, but reigning champion Tony Scarlata in "Shazam" and Bill Diez in "War Party" are tied for second, just 90 points behind.
The only clear leader in the pro classes is Travis Tutle, who has driven "Short Fuse" to four consecutive victories. Tutle is 508 points ahead of second-place Rick Allen in "Total Kaos."
"The competition in the pro and sportsman divisions was tremendous at the Diamond Drag Boat Nationals, with some memorable finals," said Dan Robinson, Director of Racing Operations for the Lucas Oil Drag Boat Racing Series. "We're looking forward to more of the same in just a few weeks as we gear up for an exciting finish to the season."
For complete information on BlueWater Resort and Casino, including hotel accommodations, check out BlueWaterFun.com.
Saturday (October 13) Event Schedule
7 a.m. – Registration opens
8 a.m. – Spectator gates open
9 a.m. – Round 1 Sportsman Qualifying
10:30 a.m. – Round 1 Pro Qualifying
Noon – Break for lunch
12:30 p.m. – Round 2 Sportsman Qualifying
2 p.m. – Round 2 Pro Qualifying
3:30 p.m. – Round 1 Eliminations for any class with 5 rounds, if necessary
Sunday (October 14) Event Schedule
8 a.m. – Spectator gates open
9 a.m. – 4 p.m. – Eliminations
***All times are tentative and subject to change without notice
Saturday Spectator Admission (Includes admission to pit area)
Youth (12 and Under) – FREE
Adult (13 and up) – $25
Seniors (62 and up)/Active Military – $20
Youth (12 and under) 2-Day – FREE
Adult (13 and up) 2-Day – $45
Seniors (62 and up)/Active Military 2-Day – $35
Sunday Spectator Admission (All tickets include admission to pit area)
Youth (12 and Under) – FREE
Adult (13 and up) – $25
Seniors (62 and up)/Active Military – $20
Youth (12 and under) 2-Day – FREE
Adult (13 and up) 2-Day – $45
Seniors (62 and up)/Active Military 2-Day – $35
CONTACT:
Dan Robinson
Director of Racing Operations, Lucas Oil Drag Boat Racing Series
Office: (417) 282-5984
[email protected]