Lucas Oil Drag Boat Racing Series 2018 Race Schedule / Rule Changes Officially Released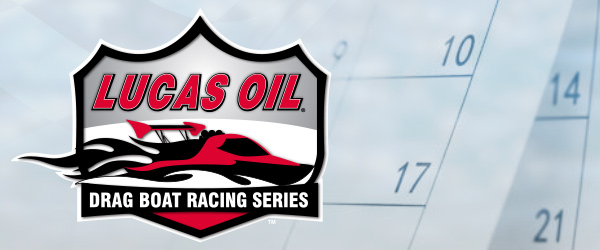 Schedule has been expanded to include copoints event with NJBA at Bakersfield, CA
Lucas Oil is pleased to announce the release of its 2018 National Touring Series Schedule.
The 2018 LODBRS Series will consist of seven National Events and will include the LODBRS Season Opener at Bakersfield, California which will serve as a Division 1 event and NJBA co-points race in addition to being a National event.
LODBRS Race Director, Ken Dollar, stated, "We are excited about going to Bakersfield for our season opener, which will also be a co-sanctioned / points event with the National Jet Boat Association. LODBRS would like to thank the NJBA board for their efforts in helping to make this event a reality."
The LODBRS will return to Wheatland, Missouri on June 8th and 9th and again over Labor Day weekend for a National, Division 2 and Division 3 points event, to San Angelo Texas on June 23rd and 24th for a National, Division 1 and Division 2 event and to Marble Falls Texas on August 10th, 11th and 12th for a National and Division 2 event before winding up the season out west. On October 13th – 14th, LODBRS will head back to Parker, Arizona for a National and Division 1 points meet and will stage the season finale at the granddaddy of them all – the LODBRS World Finals – which will be a points meet for Divisions 1, 2 and 3 in addition to being a National event.
In addition to it's National Touring Schedule, the LODBRS will offer several other Divisional events at selected venues in partnership with the National Jet Boat Association (NJBA), the Columbia Drag Boat Association (CDBA), the Southern Drag Boat Association (SDBA), the Arizona Drag Boat Association (ADBA), and the Kentucky Drag Boat Association (KDBA). The complete schedule of events is listed below.
Additionally, LODBRS has released rule changes effective for the 2018 race season, including eliminating a back up run as a requirement for establishing a new MPH or ET record and reducing the Pro Outlaw index to 5.30 seconds. On Top Alcohol Hydro single prop boats, the blower drive limit on PSI C-Case blowers has also changed to 1.92% and recertification on seat belts will now be required every four years as opposed to two.
For more information on the Lucas Oil Drag Boat Racing Series please call Ken Dollar at (830) 265- 4790 or (951) 870-6381.
2018 RULE BOOK HIGHLIGHTS
All requirements for a back up run to establish a new record in both ET and MPH have been eliminated. Pro Outlaw index is changing from 5.40-seconds to 5.30 seconds. Blower drive limit on PSI "C-Case" in TAH single prop changed to 1.92%. Recertification on seat belts changed from every 2 years to every 4 years.
2018 Lucas Oil Drag Boat Racing Schedule
Series
Date
Track
Title
Details
Lucas Oil Drag Boat Racing Series 2018
Division 1, ADBA
Feb 9 – 11
Parker, AZ
–
–
Lucas Oil Drag Boat Racing Series 2018
National, Division 1, ADBA
Apr 20 – 22
Bakersfield, CA
Battle in Bakersfield
Details
Lucas Oil Drag Boat Racing Series 2018
Division 2, SDBA
May 11 – 13
Waco, TX
Duel on the Brazos
–
Lucas Oil Drag Boat Racing Series 2018
KDBA
Jun 2 – 3
Kentucky Lake, KY
–
–
Lucas Oil Drag Boat Racing Series 2018
National, Division 2, Division 3, KDBA
Jun 8 – 9
Wheatland, MO
John Haas Memorial Drag Boat Classic
Details
Lucas Oil Drag Boat Racing Series 2018
CDBA
Jun 16 – 17
Dexter, OR
Can Am Challenge
–
Lucas Oil Drag Boat Racing Series 2018
National, Division 1, Division 2, SDBA
Jun 23 – 24
San Angelo, TX
Craig Partusch Memorial Showdown in San Angelo
DetailsTickets
Lucas Oil Drag Boat Racing Series 2018
Division 2, SDBA
Jul 7 – 8
Grove, OK
Wolf Creek Nationals
–
Lucas Oil Drag Boat Racing Series 2018
Division 3, KDBA
Jul 7 – 8
Kentucky Lake, KY
–
–
Lucas Oil Drag Boat Racing Series 2018
Division 1, CDBA
Jul 13 – 15
Dexter, OR
Bi-Mart Summer Clash
–
Lucas Oil Drag Boat Racing Series 2018
Division 2, Division 3, KDBA, SDBA
Jul 21 – 22
Evansville, IL
Water Street Riverfest
–
Lucas Oil Drag Boat Racing Series 2018
Division 2, Division 3, KDBA, SDBA
Aug 4 – 5
Chouteau, OK
POSTPONED DUE TO LOW LAKE LEVELS
–
Lucas Oil Drag Boat Racing Series 2018
CDBA
Aug 18 – 19
Culver, OR
High Desert Shootout
–
Lucas Oil Drag Boat Racing Series 2018
Division 1, ADBA
Aug 24 – 26
Parker, AZ
The Best in The West
–
Lucas Oil Drag Boat Racing Series 2018
Division 3, KDBA
Aug 25 – 26
Livermore, KY
–
–
Lucas Oil Drag Boat Racing Series 2018
National, Division 2, Division 3, KDBA, SDBA
Aug 31 – Sep 2
Wheatland, MO
Diamond Drag Boat Nationals
DetailsTickets
Lucas Oil Drag Boat Racing Series 2018
Division 2, Division 3, KDBA
Sep 14 – 16
Paris, TX
Powerboat Grand Prix
–
Lucas Oil Drag Boat Racing Series 2018
SDBA
Sep 14 – 16
Paris, TX
Powerboat Grand Prix (SDBA Finals)
–
Lucas Oil Drag Boat Racing Series 2018
CDBA
Sep 15 – 16
Dexter, OR
Northwest Nationals
–
Lucas Oil Drag Boat Racing Series 2018
National, Division 1, ADBA
Oct 13 – 14
Parker, AZ
Thunder on the River
DetailsTickets
Lucas Oil Drag Boat Racing Series 2018
National, Division 1, Division 2, Division 3, ADBA, CDBA
Nov 2 – 4
Chandler, AZ
Lucas Oil World Finals
DetailsTickets