SuperClean enjoys marketing options with Team Lucas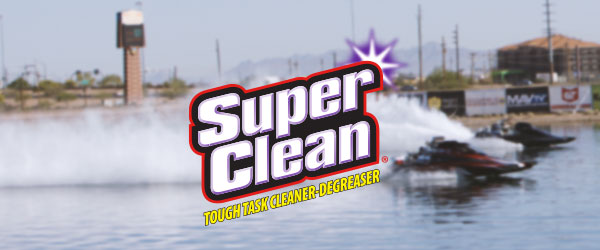 Corona, California (June 7, 2016) – Lucas Oil and SuperClean, two of the nation's most innovative and community-minded companies, are continuing an association that began in 2009 through their partnership in Team Lucas.
The association is one of those "meant to be" pairings. Lucas Oil has revolutionized the lubricant industry with its superior products and SuperClean has taken a dominant position among those who manufacture cleaning products with its "Super easy, Super Fast" mantra and its pride in giving its customers the right cleaners and degreasers to successfully take on the toughest jobs.
SuperClean says "we don't make 'everyday' cleaning products" because the market is full of those, and that philosophy carries over to its affiliation with Team Lucas through sponsorship of the Lucas Oil's Off Road Racing Series, Late Model Dirt Series, Drag Boat Racing Series, Pro Pulling League, Modified Series and Chili Bowl. None are for the faint of heart.
"For us Team Lucas has a great venue for our customers, both the professional and personal users, the retail customers," SuperClean President Bryan Badzin said. "It's a nice value package. We're excited about being associated with Team Lucas and working with them to continually find ways to leverage our company and increase sales. They're very flexible and willing to do what it takes to make their customers happy.
"It's not what we like it's what the customers like," Badzin said of the decision on which series to be active in. "Different events obviously give us different options."
Jamie Devney, Vice-President of Brand Development for Team Lucas, said "it's been a pleasure working with SuperClean. Their ideas and their quick response when opportunities arise have been beneficial to both of us and we look forward to continuing the relationship for years to come."
Team Lucas creates an alliance between Lucas Oil Products Inc. and select marketing partners that enhances brand awareness, maximizes television event coverage and heightens live, family-friendly event experiences. Team Lucas' fan and media exposure includes the Lucas Oil Off Road Racing Series, Lucas Oil Pro Pulling League, Lucas Oil Speedway, Lucas Oil Modified Series, Lucas Oil Late Model Dirt Series, Lucas Oil American Sprint Car Series and the Indianapolis Colts Lucas Oil Stadium.