TYLER SPEER BACK ON LAND AND READY FOR ARCA TEST AT DAYTONA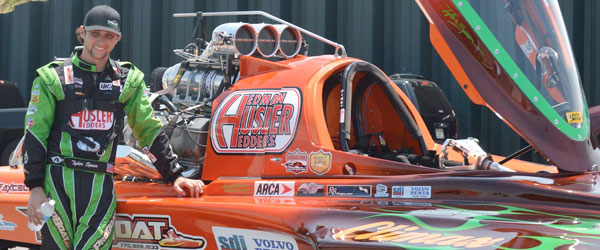 Mooresville, North Carolina (January 12, 2016) — From water to land, Tyler Speer will join the line-up of drivers set to hit the track at the annual ARCA Racing Series presented by Menards test, January 15th and 16th at the Daytona (Fla.) International Speedway.
Tyler Speer, a 25-year old from Woodstock, G.A., is returning to the ARCA Racing Series after a successful 2015 season with his adventures on the water with his Hedman Husler Hedders, CRL Contracting Pro Modified in the Lucas Oil Drag Boat Series.
As many other drivers have started their racing career, Tyler also began racing go-karts at the age of 12. From there he moved into the Allison Legacy Series when he turned 15, where he won one event and finished fourth in the championship points during the 2009 season.
The Woodstock, G.A., native has previously competed in the ARCA Racing Series with his career best finish of seventh coming at the Illinois State Fairgrounds, in Springfield, IL in 2012.
In 2015, he shifted from behind the wheel of a stock car to the wheel of a racing boat full time. He quickly learned to adapt to the change of scenery and became the number one qualifier in his first race. By the second and third races of the season the team was winning rounds. By end of season, he and his team, Amphibious Motorsports, had worked themselves into a solid seventh place finish in their first full season in the Lucas Oil Drag Boat Series.
With 2015 in the rearview, 2016 looks to be much bigger for Speer, as he plans to take part in a full season with the Lucas Oil Drag Boat Series in the Pro Modified class as well as advancing into the Top Fuel class to run a select few races, and return to the ARCA Racing Series for a few starts as well.
Follow Tyler Speer on his Facebook page at www.facebook.com/tylerspeerracing. Also follow his Twitter – @speerracing and Instagram page – @tylergofastspeer. For more information about Tyler, visit his website at www.tylerspeer.com.