77 Lucas Oil :: SilverHook 48GP :: 2013 Season Opener :: Biloxi Grand Prix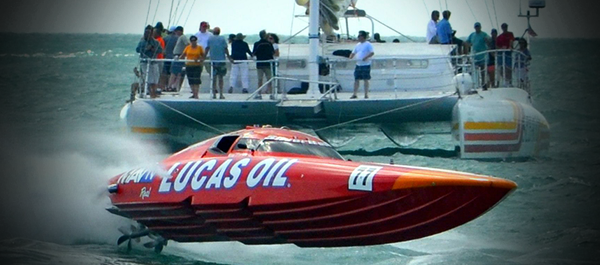 Commencing their 2013 season, the 77 LUCAS OIL team will be testing the SilverHook 48GP at their race shop near Lake Monroe, FL before heading to Biloxi, Mississippi where they are competing in the 9th Annual "Smokin' the Sound" Super Boat Grand Prix April 26-28. As a warm up to Sunday's race, the team is looking forward to participating in the "Smokin' the Sound" Poker Run on Saturday, April 27.
Comprised of a long straightaway with sweeping corners where most of the action is sheltered by the sound protecting the course from any of the Gulf of Mexico turbulence, the Biloxi Grand Prix's racecourse may prove to be a very smooth, fast track. "Typically this is not my favorite type of course", says Hook "as we prefer the open ocean and the potential for big seas, but this venue has the attraction of all the casinos and great viewing for the fans". The dry pits are based at the Grand Casino and the start/finish line in front of the Hard Rock Casino.
From Sanya, China, host of the UIM Class 1 season opener, English pilot, Miles Jennings, will be making his USA debut in Biloxi standing in for Swedish pilot, Michael Silfverberg. Miles, a veteran international powerboat racer, is also racing with the FENDI Racing Team where their next Class 1 race is mid-June in Istanbul, Turkey.
"Stepping into Michael's shoes won't be easy", says co-owner of SilverHook and throttleman Nigel Hook, adding "I have a lot of respect for Miles. We have raced against each other for many years, in many countries, and he has his own very special shoes". Miles is often compared to former English Formula One Champion, James Hunt and his reputation of always being accompanied by two beautiful models.
What else is new with the 77 LUCAS OIL SilverHook?
New engines for the SilverHook GP48. We swapped the Mercury 850hp out of the 17 LUCAS OIL Skater into the SilverHook. These engines were originally acquired by the team for the European Powerboat P1 power-to-weight ratio series and run conveniently on pump gas, which makes the 2013 plan of including Poker Runs in to the season more attainable and economical.
Chief Mechanic Ryan Zivitski from Florida and Kieran Ironmonger from Race Technology (UK) are in charge of telemetry. The 77 LUCAS OIL SilverHook team will be extending the offseason R&D to gain knowledge from the new telemetry system to identify issues during the racing to preempt expensive failures and improve efficiencies from high performance analytics.
The team will once again be streaming live video of their preparations via UStream.tv. Click here to follow the channel and to be notified when streaming activity starts.
What is new with Super Boat International?
Livestream.com has included Super Boat International in their Sports drop down menu under ESPN and ESPNW. They have also included our Event Posters in their featured events. With nearing 12,000 registered followers, Super Boat is becoming a popular online sport to watch.
What is new in Lucas Oil Marine Products?
Designed for stern-drives, outboards, 2-stroke and 4-strokes, synthetic and semi-synthetics, gear oils, grease and even fishing reel oil all benefiting from our rigorous research and application and benefiting all boating requirements. The lubricants used are optimized for use in high-performance boats with the ultimate protection from a fortified exclusive additive package even under the most severe conditions.
Nigel and Michael would like to thank the team of experts who continue to keep this first SilverHook GP48 competitive and is proud of the 13 years of continued support from Lucas Oil.